Fourth Trimester Podcast Episode 80: Prepare For Taking Maternity Leave Like A Pro
Going on leave can be daunting, particularly if you have never taken a leave before.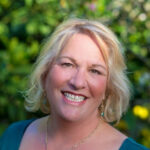 We at Fourth Trimester teamed up with Career Coach Sharon Weinberg to create a free maternity leave guide to help you make a smooth transition between working and being on leave.
The maternity leave guide is useful for those who will be having a leave of one month or more, although elements of the approach can easily be used effectively for shorter absences.
This preparation can enable you to create the necessary clarity, accountability, and continued execution to strategy by you and your team during your absence and set them up for success. Paramount in the thinking and the approach is to:
(1) minimize potential disruptions to operations due to confusion of ownership, partnership, and expected action,
(2) minimize the impact on my boss, team, and partnering departments, and
(3) create stretch leadership opportunities for my team members.
Key to your success in implementing the approach will be starting early. For those with planned leaves of three weeks or more, the recommendation is to begin putting in place these or similar actions at least one month (even two) before your leave date. In this way, the necessary clarity, accountabilities, and integration can be done in a thoughtful way with sufficient time for those taking over to feel ready and secure in the expectations made of them and the actions they will take.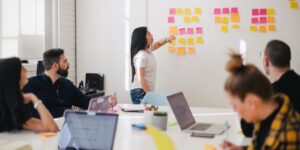 Maternity Leave Guide: Step-by-Step instructions for Planning a Leave of Absence
The purpose of this maternity leave guide is to lead an employee through the preparation required for an upcoming leave of absence. The outcome of good transition planning is to ensure that you, those whom you are delegating, and your key business partners (individuals, departments, vendors, customers) are clear in the actions they must take, and feel confident and empowered to do so during your absence.
Note, this maternity leave guide also works for paternity leave.
Goals
Ensure you have fulfilled your professional responsibilities in handing over critical information to your colleagues, direct reports and boss
Ensure you have enabled your colleagues, direct reports and boss to be successful while you are out
Ensure you have created the necessary clarity of expectations and actions for the people covering for you so that strategic and operational efforts are not disrupted
When to begin
Start your planning process as soon as you know you'll be going on a leave of absence. The process outlined in this document can take weeks to complete in a thorough manner. Ideally, allocate time in your schedule each week at least a month before your leave to devote to the necessary planning, coordination, and communication to ensure that the people you are delegating to are clear, confident, and empowered to take action on day one of your absence.
If you don't have a lot of planning time because your impending absence wasn't anticipated, identify the most important efforts/workstreams/initiatives that must be covered to minimize disruption of progress or unintended consequences. Your goal is to make those you are delegating to feel adequately prepared to take the reins in your absence.
1) Identify major projects and workstreams
Document what is currently in-flight and due to begin while you are on leave.
Project Title
Project Goals
Project timelines; important dates
Link to project plans, overview documents
Link to any relevant documentation (e.g. cases, tickets, internal wiki pages)
Dependencies on other teams
Start in a google spreadsheet, for example.
2) Identify owners for each major item
Work with your team and colleagues to identify who will be the owner as well as BACKUP owner for each project.
Update the new owners in the google spreadsheet next to each project title.
3) Owners sign off on their leadership for each item
Email the updated list to your team and other stakeholders taking over the projects. Here's an example of what this email can look like:
Here is my thinking about how my responsibilities will be covered by the team during my maternity leave. I've taken the time and thought about it, and recognize this is a partnership.
Please review this. There are four areas I want you to focus on:

What are you comfortable taking on
What are you not comfortable taking on and why
What needs additional clarification
Your plan for who covers for you on each project in instances when you are out for PTO etc.

The project list is here:
(LINK TO GOOGLE SPREADSHEET HERE)

If you are expected to take over one of these projects as the new project lead, your name will show up in column 'X'.

Please write back to me to let me know your answers to 1-4, and let me know if you need to discuss any items during our upcoming 1:1s. Once we're all final, we will be posting some version of 'who owns what' on the internal company wiki, and that list will be shared with internal stakeholders so there is no question about ownership while I'm out.

In addition, PERSON will be on point as the team lead while I'm out. That means, for new issues that come up, they will work with everyone on re-prioritizing and project ownership/distribution as needed.

I am confident that we're in a strong position, and that everyone here is capable and well-positioned to succeed. Thank you for being the amazing team that you are. I'm looking forward to heading out with a solid plan in place, knowing that we are clear, our stakeholders are clear, and that you are confident in roles and protocols during my absence.

We can discuss all of this during upcoming 1:1s and team meetings as needed.
4) Communicate your plan broadly
Once the new project leads have signed off on their ownership, document the list on a shared wiki or share the spreadsheet itself with all internal teams impacted by the projects. Here's what that email could look like:
Hi teams,

1. Here is my schedule for the coming weeks through my leave:
October 7th – 18th: Working from home (occasionally will be in the office as needed)
October 21st – Feb 14th: Maternity leave
If there's anything you need from me before I head out, please let me know sooner rather than later.

2. Here is who will be owning each major H2 initiative for TEAM NAME:
LINK TO PROJECT OVERVIEW WITH OWNERS
Please bookmark this page and go directly to the project owner(s) when you need to collaborate.

3. PERSON NAME (PERSON EMAIL) will be handling ad hoc requests coming into TEAM NAME while I'm out. Please sync with them and they can work with you if priorities need to shift.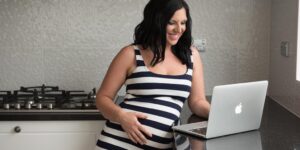 Go on your leave confident and relaxed!
Know that you aren't going to have any nagging thoughts about things that went unanswered or unowned. You've put in the hard work to prepare for your absence. Your colleagues will appreciate the effort. Your future self will be thanking you because you won't have to look back and wonder.
That's it! Best of luck to you as you prepare for many joyful changes!
For more on the subject of being both a professional and a parent, check out Allyson Downey on Career + Parenting.
---
Sharon Weinberg is an Executive Leadership, Team Performance, and Business Strategy Coach. She is passionate about helping leaders – especially women leaders – elevate their leadership impact to build strong teams, positive work cultures, achieve better business results, and live with greater ease and fulfillment.
Her wild goal over the next 15 years is to strengthen the leadership of 10,000 leaders and support 100 small companies scale their businesses with greater ease. She works with leaders and teams at all levels.
Sharon has supported the development of over 5,000 leaders and 200 teams in the past +20 years in the start-up, healthcare, high-tech, telecommunications, insurance, public sector, and non-profit arenas.
Prior to starting her own coaching practice, Sharon was a leadership and organizational performance leader for Kaiser Permanente, Comcast Cable, Ion Systems, and Blue Shield of California. Sharon's first career was in environmental policy, helping federal and state governments create workable solutions for complex hazardous waste contamination and natural resource protections projects.
Sharon is a professionally-certified coach by the International Coach Federation and The Coaches Training Institute. She also holds a Master's in Public Administration from the University of Southern California and a Bachelor of Arts in Political Economy from UC Berkeley. She has advanced training in strategic planning, group facilitation, and strategy execution.
Outside of work, Sharon is an avid swimmer, loves going to museums and concerts, and enjoys hiking in the Oakland Hills with her dog and children.
Sharon can be reached at [email protected].
To schedule a complimentary coaching and strategy session with Sharon, click on the link below:
https://calendly.com/sharonweinbergllc/complimentary-strategy-coaching-session
Fourth Trimester Coaching Promotion
Four coaching sessions for the price of three for Fourth Trimester listeners. Whether you're a leader navigating the integration of work and life, a parent wondering how you'll ever make it all happen without pulling your hair out along the way, want support creating this bold new chapter in your life, bring whatever issue or issues you want some strategic thought-partnership on and you'll have a new perspective and actions aligned with your needs as a parent in the fourth trimester. Four 60-minute coaching sessions to be used within three months of purchase. Limited to the first 20 responders.
If interested, send Sharon an email at [email protected] and specify "FOURTH". She'll send a special link for a 30-minute complimentary session and then you can decide if you'd like to continue with the promotional four-session package.
Selected links
Connect with Sharon Weinberg sharonweinberg.com | LinkedIn
Learn more Allyson Downey on Career + Parenting | How To Hire A Nanny | Sara Mauskopf CEO and Co-founder of Winnie Talks About Her Fourth Trimester Experience
Connect with Fourth Trimester Facebook | Instagram | About & Contact
Episode Transcript
Sarah Trott: [00:00:43] Hi this is Sarah Trott from the Fourth Trimester podcast. Welcome back. We have a great episode for you today. I'm super excited because we have a great guest, Sharon Weinberg, who will introduce in a moment. I want to remind everyone before we get going that we have a website which is fourth trimester podcast. We're on Facebook and we'd love to have your likes and have your followers. You can also sign up on our website for a newsletter, so please check us out and sign up.
Sarah Trott: [00:01:16] So Sharon Weinberg and I have worked together and it is such a pleasure to be speaking with her today. She's an executive leadership team performance and business strategy coach. She is passionate about helping leaders, especially women leaders, elevate their leadership impact to build strong teams, positive work cultures, to achieve better business results and live with greater ease and fulfillment. Sharon, you have a wealth of experience. Welcome to the show.
Sharon Weinberg: [00:01:47] Thanks for having me, Sarah. So nice to be in conversation with you again.
Sarah Trott: [00:01:52] Sharon and I do work together and we thought that it would be such a fantastic resource for our community here at fourth trimester to share some learnings around preparing for leave. And this is one of those topics that, you know, you think you, you know, you put your out-of-office on and you're ready, right? We're going to walk through that. Maybe there's a little bit more.
Sarah Trott: [00:02:18] But I found that, you know, after talking to a number of friends and other contacts, you know, there isn't a lot of professional guidance, I think, that is shared around going on a leave, whether it's maternity leave, paternity leave, maybe other types of leave, other than some of the actual facts that are coming from h.r. Or your benefits companies around, you know, dates and limits and and laws and things like that. And, you know, we really want to see if we could add some finesse to create as smooth a leave as possible for everyone.
Sarah Trott: [00:02:51] And Sharon, I just want to start with just some high level background on you as well. So I want to talk about leave, but tell us a little bit about yourself and why you're excited about this topic.
Sharon Weinberg: [00:03:03] Yeah, that's great. So I've been doing leadership and talent development for about 30 years, and for the last five years I've had my own practice as a coach and consultant and professional facilitator. I've done a lot of work, been internal to organizations for 25 years, small organizations, really big organizations.
Sharon Weinberg: [00:03:31] I've gone on to maternity leaves during that time and I know that it's really challenging when you have, especially if you have a fairly high pressure job and a lot of responsibility to get everything ready before you go on leave and to be able to leave things in a way in which you're not having a whole series of calls afterwards or feeling completely like it's not completely ready for everybody else to step in.
Sharon Weinberg: [00:04:03] So my passion around doing this work with you and other moms who are going on leave and also some dads is to make it that transition from I'm at work and I'm not taking care of a young baby to one where there's an ease in taking that time off and knowing that things are left in good standing. And I would completely agree with you that I don't think businesses typically give guidance on really how to do this transition planning.
Sarah Trott: [00:04:36] There's a few goals we've identified around going on a leave, so let's walk through those. So the three goals are, one, ensure you have fulfilled your professional responsibilities in handing over critical information to your colleagues, direct reports and boss. Right. So just what information do other people need to do the job while you're gone? Secondly, ensure you have enabled your colleagues, direct reports and boss to be successful while you're out. That could mean a lot of things. And three ensure you have created the necessary clarity and expectations and actions for the people covering you so that the strategic and operational efforts are not disrupted.
Sharon Weinberg: [00:05:19] Good goals.
Sarah Trott: [00:05:21] Yeah, I think we need to make sure those are all taken care of.
Sharon Weinberg: [00:05:24] Yeah. And, and I think often that's not, you know, I think the work you and I did together around this was really I mean, it was transformational work from the standpoint of I know it gave you clarity about what do I need to do before I leave? And I think sometimes the idea that people are just going to pick up the pieces is really a dangerous way of leaving things.
Sharon Weinberg: [00:05:55] I mean, that happens sometimes because things are unexpected, but you really want to keep in mind whether you're coming back to this job or whether you're not about leaving things in a way in which there's not extra disruption that's happening because you're not there and somebody else or a team of people is doing your work.
Sarah Trott: [00:06:21] Even if you weren't returning. There's just a similar or same set of goals.
Sharon Weinberg: [00:06:26] Absolutely. You know, the thing is, is that even if you're right, if you're not returning, it's your reputation and you've also build relationships with these people. And so you don't really, really think about you know, you've put the hard work in into building good relationships with these people. And you've also developed a reputation within the organization based on your work. You know, if you're leaving on a on a maternity leave or even this would apply.
Sharon Weinberg: [00:06:57] Also, if you have something like a planned medical leave or a sabbatical or anything where you've had some time to plan. The key here is, is to not create chaos and could somebody step in? The question to ask is. Can somebody easily step in and keep the ball rolling and do what needs to get done in a way in which, yes, there may be some awkwardness initially, but not something in which suddenly there's major fractures in terms of operations or in terms of guidance of a team or how a team is performing or in terms of a leadership vacancy.
Sarah Trott: [00:07:43] So let's say hypothetically, we have a listener out there who's expecting maybe it's their first child. They know they're going to be going on leave. They have a rough you know, they know their due date. So they're not round about when they're going to go. But maybe there are four months pregnant. When do you think is a good time to begin the planning process?
Sharon Weinberg: [00:08:02] So once you let your employer know that you're pregnant and that you will be going on leave, I think a good a good place is to sort of start from the end in mind. And, you know, we never know with babies and with pregnancies, we have an expected due date. But who knows if that's actually going to occur on that date? It may, in fact, happen early, as often is the case.
Sharon Weinberg: [00:08:31] So I think from a sort of safety perspective, it can be wise to plan on having your transition planning done a month before you're expected leave date. And I know that seems maybe far in advance, but we do know in fact, you know, people have had babies come a month early, two months early even. And so or maybe you get put on bedrest or something like that occurs. So the key here is not to leave it up to the last minute. So I would say back it up about if you assume that you want the transition plan and people knowledgeable about it a month before your actual due date, then you should in fact start the transition planning two months before that. So we're talking about at least three months.
Sarah Trott: [00:09:26] And then maybe it's not even due date. It's just whenever you're going on leave, you know, a lot of people will also take a month off their final month of their pregnancy off to Prepare And rest. So so it's kind of. So you're saying really three months before that leave date?
Sharon Weinberg: [00:09:40] Exactly. And I think the reason why is that there's never any harm in being doing the planning early. What ends up happening is when there's a plan to, you know, I'll make the transition one week before I'm going to leave and then suddenly you have to move that up and you're not ready. You know, that's that's an extra stress you just don't need.
Sarah Trott: [00:10:07] Yeah, right. Being in the hospital and worrying about.
Sharon Weinberg: [00:10:10] Right, right. Or being on bedrest or.
Sarah Trott: [00:10:13] I sure hope someone on my team knows X, Y, Z.
Sharon Weinberg: [00:10:16] Exactly.
Sarah Trott: [00:10:18] So we've identified, I think, four major steps in this process. So let's go ahead and walk through these. So the first step we have is identifying major projects and workstreams. Let's talk about that.
Sharon Weinberg: [00:10:29] Yeah. So, you know, imagine that you have familiarity with what's on your plate. And if you're in a leadership position, there's major functions that you're overseeing or major initiatives or projects that you're overseeing. So in fact, you can identify those into distinct chunks, even your responsibilities if you're overseeing a department. Right.
Sharon Weinberg: [00:10:55] And there are sort of the, you know, what I call the kitchen drawer of responsibilities, all the some of the miscellaneous stuff that is associated with running a function or a department that too can be put into the concept of a project. All of those things have to be covered. And so if if you can break it into distinct chunks, it might makes it much easier to delineate who actually is going to be responsible for it while you're on leave and what exactly they need to know and do.
Sarah Trott: [00:11:32] And so, for example, we could identify a handful of pieces of information for each area. So so if it's project based work, for example, it could be the project title, the goals of the project, what are the timelines and dates for that project? So, you know, is there a project plan for it already? And making sure you have the information organized somewhere like a shared spreadsheet that has the links to the project plans or any relevant internal wiki pages. Things that other teams might need.
Sharon Weinberg: [00:12:05] Yeah. Who else is involved in the project? What are their roles? Right. And what are their responsibilities if you have, for example. You know, a project where there may be many players it might be worthwhile to even put together if you haven't already something like what's called a stakeholder matrix, which actually identifies who's involved, what their responsibilities are, what their contributions are, what their influence is.
Sharon Weinberg: [00:12:36] And this is a way of helping somebody really get up to speed. And for all the people who all the other people who are involved on this project for you, with you that you've taken away or remove the responsibility of having them have to educate whoever is covering for you, they can actually move into a place of greater partnership rather than from a place of foundational information.
Sarah Trott: [00:13:07] Brilliant. All right. So we have a list of of ten chunks of responsibility, ten projects. Now, what's next?
Sharon Weinberg: [00:13:16] So identify the owners for each of the projects. Right? It may not be one person, so it could be that you're spreading it around. Let's say if you have a team, this can be actually a wonderful opportunity. If you're in a leadership role, this can be a wonderful opportunity for people who are at the individual contributor or staff level or team lead level to actually stretch into some new responsibilities.
Sharon Weinberg: [00:13:47] So it gives them sort of a defined window for, in fact building some core skills and taking on some extra responsibility which in fact can prepare them for in the future, whatever promotion or other opportunities they may get. So define who's owning it. I'm a real believer in Plan A, Plan B, and so for every person you define. Also defined to in terms of overseeing that given project, also identify who's their backup and the reason why is life happens. You don't know what's going to happen for the person. Who you have assigned something to.
Sharon Weinberg: [00:14:37] They may leave the organization. You know, they may have something in their personal life come up that requires them to take a larger chunk of time off. So having a plan B, a designated person as a backup identified allows things to go forward. And I think a great way to think about it is that if you've ever gone to the theatre or the opera or the ballet or any dance performance, there's a reason they have understudies and backups because singers get sick and dancers get injured and things happen. And so if you don't have a backup, then they'd have to close the show. So if you could look at it by from the perspective of having in a way, an understudy for whoever you've designated and they too are included in whatever planning for this transition, then in fact you're well covered.
Sarah Trott: [00:15:35] So I've got my list of projects, I've got my stand in, I've got their backups. Now what?
Sharon Weinberg: [00:15:41] So one of the things that happens and we often hear about it after the fact, is the concept of somebody saying, I didn't know I was supposed to do that. And so when we're talking about the actual transition planning, it's not simply about having having designated the person a person or persons, right?
Sharon Weinberg: [00:16:05] A primary and a secondary. It is about actually sitting down with them and making sure that they are first willing to take this on, that they're comfortable to take it on, and that as you go through the planning, transition planning, that they are clear every step of the way. I think all too often where we're planning goes awry, especially collaboration goes awry, is people make very unsecured assumptions about a person's commitment. And so they're throwing the ball into their court and they're just expecting them to run with it. But they've not the other person hasn't yet committed.
Sharon Weinberg: [00:16:53] Well, unless you're clear about that, assume that in fact they haven't committed. So it's really about asking that question. Do they have the time, you know, are they willing to make this commitment talking about what, in fact, is going to be involved and even getting them to sign off? And I know that seems a bit formal, but what it does is it ups the ante for them about truly honoring the commitment that they are making to you and to the organization.
Sarah Trott: [00:17:26] That way you don't end up with someone saying, Well, sure, you put my name there, but I never said yes. Right.
Sharon Weinberg: [00:17:35] Exactly. Exactly. And then everybody looks bad.
Sarah Trott: [00:17:39] Oh, okay. So then everyone in our hypothetical has signed off. Everyone understands. Is that it or are we done yet?
Sharon Weinberg: [00:17:48] No, not quite so. So then what you want to do is you really want to communicate the plan broadly and and by broadly this means, you know, one, sharing it with everyone. You've got to have something in writing, right? It's not it cannot be only verbal. This is one of the biggest mistakes I see both leaders and non leaders make is everything is done in verbal in a verbal format or or on slack.
Sharon Weinberg: [00:18:20] These are not the kinds of things to be done in that way. You need to have them in a Google doc or an email with a document attached or very clearly laid out. But you really want to make sure that everybody is that's involved, is aware who's going to be involved, is aware of exactly what's going to transpire. And so once you have that done where you've you know, that your department knows exactly, let's say, who's covering what and who's the plan, who's the backup and what the steps are. One of your last steps.
Sharon Weinberg: [00:19:01] Is, in fact, to meet with your boss and to make sure that they are completely clued in on the plan and that there is space for them even to make some adjustments. So you don't know perhaps what your boss has in fact envisioned for one of the people you've assigned or who has opted to support you while you're on leave. It's really about making sure you get their buy in as well.
Sharon Weinberg: [00:19:34] And the reason why is that way the person who is responsible for covering for you isn't put in a difficult position when you're gone. Of Do I follow through on what my boss the boss is telling me, or do I follow through on this assignment that I've committed to? I can't do both. Right. So this is a way for you to clear the path with your boss for the work going forward. And that way everybody is on the same page.
Sarah Trott: [00:20:06] Brilliant. Well, thank you so much, Sharon. This has been fantastic chatting with you. I'm so honored to have you on the program and think there's something that you wanted to mention for listeners of Fourth Trimester Podcast.
Sharon Weinberg: [00:20:19] Yes. So for fourth trimester podcast listeners, I'm running a special just for you, and that is if you'd like to try out coaching, if you'd like to in fact have some support in putting together your leave and and your re-entry plan or if you want to work on how to create greater life work integration.
Sharon Weinberg: [00:20:45] When you come back from maternity leave, I'm offering a special for 60 minute coaching sessions for the price of three. Sarah will have an email in the show notes and you can just send me an email and just put the words forth and we'll set up a time to chat beforehand and see if there is a fit and and how I can serve you. And if you'd like to go forward with that, then you'll get 460 minute coaching sessions, one on one with me for the price of three.
Sarah Trott: [00:21:18] Fantastic. And I think you said you're also open to having a quick chat with someone first before they make any commitments.
Sharon Weinberg: [00:21:23] Absolutely. We'll do a quick 30 to 45 minute chat. Absolutely.
Sarah Trott: [00:21:27] Wonderful. Well, thank you so much, Sharon. Thank you again. Listeners, please tune in next time for the fourth trimester podcast. Don't forget to look at our website, which is fourth trimester podcast. Sign up for the newsletter like us on Facebook and we'll see you again next time.
Sharon Weinberg: [00:21:42] Wonderful. Thank you, Sarah.
The content provided in this article(s) is provided for informational purposes only and does not constitute medical or other professional advice. Neither Sarah Trott nor Buckeye Media LLC (DBA Fourth Trimester) are liable for claims arising from the use of or reliance on information contained in this article.