Fourth Trimester Podcast Episode 63: How to Hire A Nanny with "The Nanny Manual" Author Alyce Desrosiers
Trusting another person to care for your child can be challenging. Having a plan in place for hiring and employing a childcare provider will go a long way in alleviating some of the stress.
Listen to Episode 63 of the Fourth Trimester Podcast to learn about:
when to start looking for a nanny / childcare provider (accounting for how long it can take to hire someone)
the importance of pre-screening candidates and conducting a thorough interview process (because you need more than one interview with your final selections)
conducting a nanny trial period
how to develop and maintain a good line of communication between parents and care providers
how to customize a contract to use with your care provider (a great resource is www.tiffan.org)
what to expect for how to pay a nanny (over the table vs under the table)
how to consider the nanny's perspective, including pressure they may feel (e.g. if you don't have any backup care)
how to set clear household expectations
Alyce Desrosiers is a licensed clinical social worker and the founder and managing director of Chirp Connecting Families and Nannies LLC. For over 20 years, Chirp has helped San Francisco families find, hire and employ Nannies that are the right fit for their needs and lifestyle. In addition to her latest book The Nanny Manual, she is the author of two previous books, Finding a Nanny for Your Child in the San Francisco Bay Area and Nannies for Modern Moms.
Alyce is also the founder of the non-profit, The Institute for Families and Nannies (TIFFAN), with the mission to educate, inform and support the relationships between parents and Nannies to further the development of young children. TIFFAN's mission is to establish a recognizable standard of care for the nanny industry and best practices for parents and nannies to ensure quality care. We are accomplishing this through professional development, education and training for nannies in collaboration with parents. An intended consequence of TIFFAN's mission is to elevate the quality of care, improve nanny – parent relationships, and provide job skills and career advancement opportunities for nannies to teach, mentor and consult with families and other nannies on best practices. For more information visit, www.tiffan.org.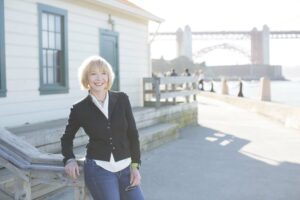 Listen to Esther, Sarah, Alyce & Nanny Glinda on the Fourth Trimester Podcast Episode 63. Click here for iTunes and click here for Google Podcasts. Enjoy! xo
Selected links
Connect with Alyce Desrosiers tiffan.org | LinkedIn | Instagram
Alyce's book The Nanny Manual: How to Choose and Nurture the Perfect Childcare Partner
Learn more Sara Mauskopf CEO and Co-founder of Winnie Talks About Her Fourth Trimester Experience | The Best Resources For New and Expecting Parents
Connect with Fourth Trimester Facebook | Instagram | About & Contact
The content provided in this article(s) is provided for informational purposes only and does not constitute medical or other professional advice. Neither Sarah Trott nor Buckeye Media LLC (DBA Fourth Trimester) are liable for claims arising from the use of or reliance on information contained in this article.