Chicken, Red Dates & Ginger Soup continues to amaze us with depth of flavor, warmth and visual beauty.
Our friends over at the First Forty Days are generously sharing a few of their favorite recipes with us at Fourth Trimester. Thankfully, we can make this delicious soup well beyond our first forty days!
Love this recipe? You can find more from our curated collection of postpartum recipes here.
Recipe source: The First Forty Days: The Essential Art of Nourishing the New Mother
While you're making this recipe, listen to the women who created it, Heng Ou, Amely Greeven, and Marisa Belger on the Fourth Trimester Podcast:
Seven Factors That Influence The First Forty Days – this episode takes you on a journey centered around the core concept of mothering the mother. When we take care of ourselves, we can care for our children. The article is an excerpt from the book that is one of my favorites – grab a pencil, your journal, a cup of tea and start articulating to yourself what your expectations are (and could be!) for your postpartum experience
Four Relationship-Saving Questions To Ask Before Baby Arrives – when it comes to partnering to bring a new baby into this world, communication is key. Invisible, unspoken assumptions about who does what or what it means to play different parenting roles can make or break a happy home environment. Set your relationship up for success. Don't skip out on asking the big questions.
And of course, Here is their book!
Enjoy!
P.S. The recipe calls for Red Dates and Gogi Berries (goji berries are also lovely mixed in with yogurt and granola)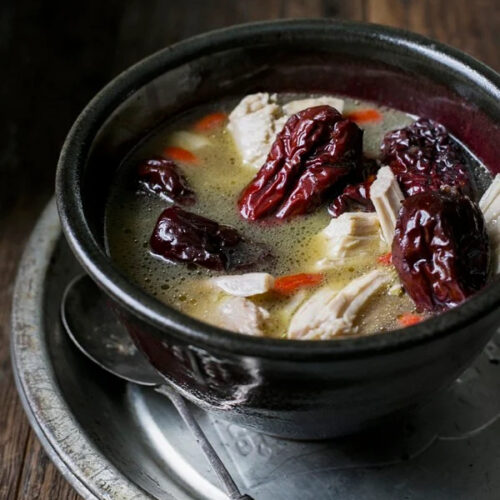 Chicken, Red Dates & Ginger Soup
This twist on a classic "first food" for mom may sound strange. Dried fruit in chicken soup, you ask? But go with it: Chinese red dates—also known as jujubes, available at Chinese markets or online—plus ruby-colored goji berries is a time-tested combo used to boost circulation and enhance inner warmth. Your eyes will delight at the look of these little gems in your soup bowl. Your taste buds will love the subtle touch of sweetness against the savory chicken. I recommend making every effort to use Chinese red dates, which bestow amazing postpartum health benefits, as they are not difficult to find online or in local Asian markets. Medjool dates are okay in a pinch but they do not have the same medicinal effects.
Recipe from The First Forty Days: The Essential Art of Nourishing the New Mother by Heng Ou
Ingredients
2-2.5

lbs

whole chicken or chicken parts

organic or free-range preferred

1/2

white or yellow onion, peeled

2

inch

knob of fresh ginger, unpeeled, halved

3

medium carrots, peeled and thinly sliced

5

Chinese red dates

3

tbsp

dried goji berries

sea salt
Instructions
Rinse the chicken under cold water, place in a medium stockpot, and add enough cold water to just cover the chicken. Bring to a boil over medium-high heat, uncovered.

Once boiling, add the onion and ginger to the pot. Reduce heat to medium and cook for 40 minutes, covered. Every so often, remove the lid to skim any foam off the top and discard.

Remove from heat, and with the help of tongs, remove the chicken and set it aside to cool. When cool enough to handle, remove the cooked meat from the carcass and shred it. Return the rest of the carcass to the pot. Add 1–2 cups of the shredded meat (reserving the rest for another use), along with the carrots and red dates, and simmer over low heat, uncovered, for 1 hour. Set a timer to go off in the last 15 minutes, and stir in the goji berries. Season with a pinch or two of salt, or more, to taste.

Drink this soup throughout the day, keep in the fridge for up to 5 days, or freeze in zip-tight plastic bags or glass mason jars (see page 130) for up to 3 months.
Connect with the women who created this recipe: Heng Ou, Marisa Belger and Amely Greeven. We feature them on episodes 17 & 19 of the Fourth Trimester Podcast.
Please do take a moment to subscribe to the Fourth Trimester Podcast Newsletter.