Our friends over at the First Forty Days are generously sharing a few of their favorite recipes with us at Fourth Trimester. We are in love with this warm, flavorful soup. The Creamy Kabocha and Red Lentil Soup has been on permanent rotation in our family's meal plan ever since we discovered it. We love it and we hope you do, too!
Love this recipe? You can find more from the collection here.
Recipe source: The First Forty Days: The Essential Art of Nourishing the New Mother
While you're making this recipe, listen to the women who created it, Heng Ou, Amely Greeven, and Marisa Belger on the Fourth Trimester Podcast:
Seven Factors That Influence The First Forty Days – this episode takes you on a journey centered around the core concept of mothering the mother. When we take care of ourselves, we can care for our children. The article is an excerpt from the book that is one of my favorites – grab a pencil, your journal, a cup of tea and start articulating to yourself what your expectations are (and could be!) for your postpartum experience
Four Relationship-Saving Questions To Ask Before Baby Arrives – when it comes to partnering to bring a new baby into this world, communication is key. Invisible, unspoken assumptions about who does what or what it means to play different parenting roles can make or break a happy home environment. Set your relationship up for success. Don't skip out on asking the big questions.
And of course, Here is their book!
Enjoy!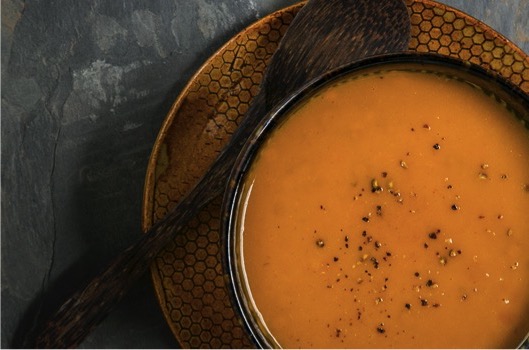 Creamy Kabocha & Red Lentil Soup
Orange is a color of celebration, ritual, and happiness—a shade that instantly lifts the spirits. This pureed soup is so easy to make from ingredients stocked in your pantry, and it's a great one to ask a visitor to whip up for you.
The slightly sweet taste and grounding properties of kabocha squash are especially comforting on days when you might feel teary or blue, and a generous amount of lubricating oil helps to remedy inner dryness and wind, soothing the nerves further.
Recipe from The First Forty Days: The Essential Art of Nourishing the New Mother by Heng Ou
Ingredients
3

tbsp

sesame oil or coconut oil

1/2

white or yellow onion, peeled and roughly chopped

1/2

shallot, roughly chopped

1

medium kabocha squash, peeled and cut into small cubes

(substitute acorn or butternut squash)

1

tsp

ground cumin

1

tbsp

curry powder

2

qts

vegetable broth

2

cups

red lentils

2

tbsp

soy sauce

(substitute tamari or Bragg Liquid Aminos)

2

tbsp

nutritional yeast (optional)
Instructions
Warm the oil in a large pot over medium heat. Add the onion and shallot and lightly brown them, stirring with a wooden spoon, about 5 minutes. Add the squash, cumin, and curry powder and lightly sauté with the onions, about 5 minutes more.

Reduce heat to medium-low, add the broth, and bring to a boil. Cover the pot, reduce heat to low, and cook for 40 minutes. Add the lentils and continue to cook for another 10 to 15 minutes, until the lentils and squash are tender.

Let the soup cool slightly, then transfer it to a blender in batches and puree until creamy, if you like, or stop when some of the squash is still chunky. (Or use a hand blender to blend the soup in the pot.) Season with the soy sauce and nutritional yeast, if using, to taste.

Drink throughout the day. Store leftovers in the fridge for up to 5 days, or freeze in zip-tight plastic bags or glass mason jars (see page 130) for up to 3 months.
As we cover in Nutrition and Nourishment & The Essentials, new parents need sustenance for their physical (food!) and emotional (care!) self.
Please do take a moment to subscribe to the Fourth Trimester Podcast Newsletter.