Jessicca Moore Asks 'Why Not Home?'
Why Not Home: The Surprising Birth Choices of Doctors and Midwives is about "changing the conversation about birth in America and spreading evidence-based information about birth across settings."
Jessicca is a family nurse practitioner with a story to tell. Set on a journey by her own home birth experiences, she created the feature length documentary, Why Not Home?, about nurses and doctors who attend birth in the hospital and have their own children at home. The film was released on iTunes and Amazon on Labor Day 2017. A transplant from the midwest, she and her husband have made their home in Sonoma County California where she tries to keep up with her two children, six chickens, and two sheep.
Please listen to episode 41 of the Fourth Trimester Podcast to hear to Jessicca talk with Sarah and Esther about the ins and outs of home birth versus hospital birth. If you're considering a home birth, or just researching options in general, we'd recommend listening to the episode and watching 'Why Not Home'.
The short answer to the home birth or hospital birth question is that there is no right answer. "Both options carry risks", Jessicca is quick to point out. However, some of the risks of a hospital birth are introduced by the fact that most hospital births come with an increased chance of interventions that would not have occurred at home.
Robyn Lamar, MD: I knew if I gave birth in the hospital, there'd be a higher risk of all sorts of interventions, including operative delivery. So I felt like there was no choice that was zero risk. And my job was to choose the set of risks that I was most comfortable with. (Excerpt from the Why Not Home guide.)
Watch the trailer here:
Why Not Home? Trailer from Jessicca Moore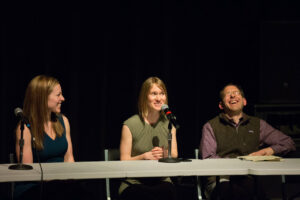 Here are some great resources:
Listen to Jessicca Moore on Episode 41 of the Fourth Trimester Podcast. Click here for iTunes and click here for Google Podcasts. Enjoy! xo