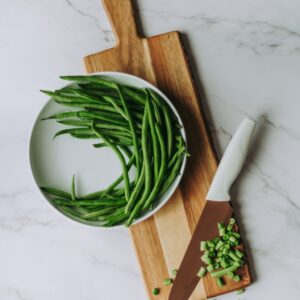 Green Beans with Roasted Onions
Green beans are elevated with the sweetness of roasted onions and a vinegar sauce. Perfect side dish or snack on its own.
Ingredients
6

medium onions, cut vertically through the root and into 12-14 wedges

6

tbsp

butter

2

cups

low sodium chicken broth

3

tbsp

sugar

2

tbsp

red wine vinegar

3

lbs

slender green beans, ends trimmed

1/2

cup

dried cranberries (optional)
Instructions
Spray or oil baking sheet. Arrange onions in a single layer. Dot onions with 4 Tbs. butter, dividing equally. Season with salt and pepper. Bake until the onions are dark brown on bottom, about 35 minutes.

Meanwhile, boil the broth over high heat until reduced to ½ cup. Add sugar and vinegar and whisk until the sugar dissolves and mixture boils.

Add onions to sauce, reduce heat to medium-low. Optionally add dried cranberries. vSimmer until liquid is slightly reduced, about 5 minutes. Season with salt and pepper if necessary.

Steam beans to taste, el dente, toss with 2 tbs. butter and pile onions on top to serve.