Time for LACTATION COOKIES! While you're whipping up a batch of these lovelies, listen in to Serena on her episode of Fourth Trimester Podcast Why Postpartum Midwifery is Vital to Healing With Serena Saeed-Winn
Benefits
Lactation cookies are a popular choice among many parents who are breastfeeding. Why? These cookies are specifically formulated to support and enhance milk production. There aren't any guarantees but it certainly won't hurt to make and eat some delicious snacks. So, here are a few reasons why lactation cookies are so loved:
Nutrient-rich ingredients: Lactation cookies are typically made with ingredients that are known to be beneficial for lactation. Common ingredients include oats, brewer's yeast, flaxseed, and fenugreek. These ingredients are rich in essential nutrients such as iron, calcium, omega-3 fatty acids.
Boost milk supply: As the name would imply, lactation cookies support milk production. Ingredients like brewer's yeast and fenugreek are believed to stimulate the release of prolactin, a hormone that helps in milk production. This is the point after all.
Convenient and enjoyable: Breastfeeding can be demanding, and parents appreciate having a convenient and tasty snack option that can potentially benefit milk production. We highly recommend adding a few lactation cookies to a snack tray. (What's a snack tray? Find out here) And bonus, our recipe can be made in various flavors to suit your favorite style of cookie.
Psychological benefits: Breastfeeding can be emotionally challenging for some parents, especially if they are concerned about their milk supply. Lactation cookies can serve as a confidence booster by providing a sense of control and empowerment. Even if the direct impact on milk production varies from person to person, the act of consuming lactation cookies can create a positive mindset, reduce stress, and help parents feel proactive in supporting their breastfeeding journey. So go ahead, give them a whirl.
Recipe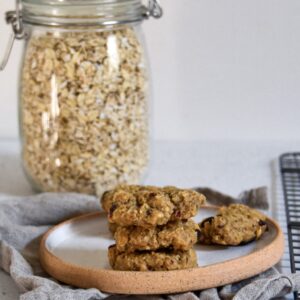 Serena's Lactation Cookies
These are the BEST lactation cookies. They contain the typical ingredients associated with increased milk production. And they just taste amazing as well. You can try all kinds of variations (e.g. optional nuts, nut butters, cinnamon, rice flour if you are gluten free). Make them your own!
Ingredients
2

cups

old-fashioned rolled oats Add more oats for a thicker cookie

1 1/2

cups

unbleached organic all-purpose flour

5

tbsp

 brewers yeast

3

tbsp

ground flaxseed

1/2

tsp

baking powder

1/2

tsp

baking soda

1/4

tsp

salt

12

tbsp

butter

4

tbsp

unrefined virgin coconut oil

1/2

cup

white sugar (or sweetener of your choice)

1/2

cup

brown sugar

1

large

egg (plus one additional egg yolk)

2

tsp

vanilla extract

1 1/2

cups

semi-sweet chocolate chips/chunks

1/2

tsp

ground cinnamon or pumpkin pie spice

Optional

1/4

cup

unsweetened  flaked coconut

Optional

1/4

cup

chopped almonds or walnuts

Optional

2

tbsp

almond butter

Optional
Instructions
Preheat the oven the 350 degrees F

Soften butter and coconut oil

In a large bowl, whisk together the flour, yeast, flaxseed, baking powder, soda, and salt

In a separate bowl beat the butter and coconut oil on medium speed until creamy

Add in the sugar and beat on medium to high speed until fluffy

Add in the egg and egg yolk, beating until combined

Add in the vanilla extract and beat until combined 

Gradually add in the dry ingredients, beating on low speed until just combined and mixed

Add oats and stir

Stir in the chocolate chips with a spatula until they are evenly dispersed

Scoop the dough into 1-inch rounds (I use an ice cream scoop so they are fairly uniform in size)  and place on a baking sheet covered with parchment paper

Bake for 5-10 minutes based on desired crispiness
Selected links
Connect with Serena Saeed-Winn thekazproject.com | Instagram
Serena's Lactation Cookie Recipe Featured on the Snack Tray Collection
Learn more  How To Ease The Transition Into Parenting | Postpartum Recovery Plan | THE SIX WEEK GAP: Doulas, Postpartum Recovery and Self-Care
Connect with Fourth Trimester Facebook | Instagram | About & Contact
Special offer on Serena's workshops and postpartum care packages
We're thrilled to be able to offer listeners of Fourth Trimester a discounted offer on workshops and services offered by the KAZ Project. Thank you Serena for the generous offer!
Enter code 4TRI to get 10% off all workshops and lactation consultations and $100 off postpartum packages. Read about the offerings below. Book here: thekazproject.com/about-4