Fourth Trimester Podcast Episode 26: Somatic Experiencing
Not all births are "easy births". When there is a traumatic birth experience, where too much happens too fast, a sense of connection between parent and baby can be weakened.
Chanti Smith is an expert at human connection. She has worked with people of all ages to strengthen their parental attachment relationships. In particular, the work she does through Somatic Experiencing has helped parents develop a strong sense of connection and attachment with their babies.
What is Somatic Experiencing?
Somatic experiencing is "a body-oriented approach to healing trauma. This approach is based on a deep understanding of nervous system physiology and is a potent psychobiological approach to resolving the symptoms of trauma and chronic stress" (ref). The therapy aims to "restore the nervous system's normal cycling between alertness and rest" (ref).
Good candidates for somatic experiencing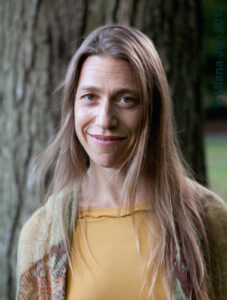 Women who have experienced too much too fast (i.e. trauma) and who do not have a sense of completion, are good candidates for somatic experiencing. It is possible to think of the birth process in terms of five phases: intention, preparation, action, immediate postpartum, integration. Chanti works with women to understand whether there was trauma or disruption during any one of those phases. The goal is to restore ease to the body.
Connecting and attachment is important for the health of parents and babies. Staying connected involves touch, eye contact, feeling the sensation of connection. Connection can be part of the repair to a disruption in bonding and attachment between a parent and baby.
Any experience where a mom, a parent, and a baby are separated post-birth can challenge the initial bonding and attachment. The bonding and attachment may have gaps that need to be healed. It is typical in cesarean births for a baby not to connect with the mother right away after birth (e.g. not have immediate skin-to-skin contact). Parents may need to address their own birth story issues which arise when they have children.
Strengthening Attachment With Your Baby
There are ways to support the connection between baby and parents and allow the attachment to deepen. In Episode 26 of the Fourth Trimester Podcast, Chanti shares examples of the methods she uses for strengthening attachment. For example, through re-patterning work, or through an exercise involving talk, listening and interaction with parents and baby. Chanti will work with the parents to talk about what happened, will have the parent and baby have skin-to-skin contact, and talk to the baby and listen to the baby. Some babies will crawl up on their mothers bellies, "telling their birth experience". Beautiful.
"Have compassion for yourself. Take time for yourself." – Chanti Smith
Learn more about Chanti and her work by visiting
Hear Chanti Smith on Episode 26 of the Fourth Trimester Podcast. Click here for iTunes and click here for Google Podcasts. Enjoy! xo
Selected links
Connect with Chanti Smith www.embodiedbeginnings.com | Book A Session
Learn more Healing Birth Trauma | Covering the Basics for the First Few Weeks with a Newborn
Connect with Fourth Trimester Facebook | Instagram | esthergallagher.com | About & Contact