Melissa Hurt is our guest this episode and she offers us an easy and rather fun and funny technique for "finding our voice" as new parents.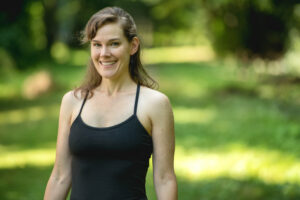 This little exercise, known as the Y-Buzz will warm up your vocal chords and open your voice and tickle your face.  But it's not just for fun– this technique is something you may find empowering as well as spirit-lifting.
"I took my first yoga class in my late twenties and finally found a place where I could feel my breath with ease. Over time, I became comfortable with my body taking up space in the room. One day after class I felt something completely foreign to me—contentment and peace. That summer I took a four-week embodied voice and movement intensive. The work focused on bringing awareness to sensation and vibration in voice and body to develop, among other skills, speech clarity, vocal tone, and expressive dynamics. I noticed warmth in my voice as it vibrated towards the front of my mouth. When I felt my voice, I felt myself.  I became interested in what I had to say. Yoga and embodied voice brought me back to myself—a woman I got to know again and enjoyed being with. These embodiment disciplines don't only ground me in the moment of practice, but throughout my daily life when I carry over a mindfulness of sensation. They are a way of life.
I became a certified trainer of Lessac's Kinesensic voice and movement work in 2010. I became a certified yoga teacher in 2012 from Sun and Moon Yoga Studio in Arlington, VA and earned my RYT-500hr designation in 2018. I have taught voice at the National Institute of Dramatic Art (Sydney) and George Mason University (Fairfax, VA).  I have taught many levels of yoga, including standard hatha yoga, yoga fundamentals, prenatal, postnatal, and vinyasa yoga." — Melissa Hurt
Melissa Hurt's website is https://www.melissahurt.com/. Her newsletter signup comes with a free toolkit including a daily checklist with five must-do practices, a diagram of how to balance and and move your feet for a stable foundation, a 7 min yoga sequence sheet, and a 5 min audio meditation.
Listen to Esther Gallagher & Melissa Hurt on the Fourth Trimester Podcast Episode 71. Click here for iTunes and click here for Google Podcasts. Enjoy! xo