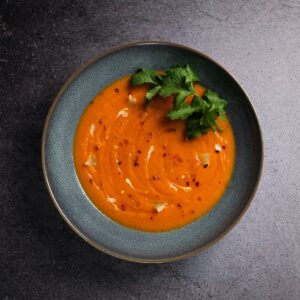 Broccoli and Tomato Soup
A healthy, warm and tasty soup for a postpartum lunch or dinner.
Ingredients
1

tbsp

olive oil

1

spanish onion, chopped

5

cloves

garlic, finely minced or pressed

1

tbsp

oregano or marjarom

1

16 oz. can of plum tomatoes

8

cups

chicken or vegetable stock

1

head

broccoli, woody stems discarded, broken into florets

½

cup

parsley, chopped

½

cup

Parmesan cheese

¼

cup

soy sauce

Ricotta cheese

(garnish)
Instructions
Heat oil in a large (3 quart) soup pot over a low flame. Add onion and garlic and cook covered 10 to15 minutes until golden. Add the oregano, tomatoes and their juices and the stock, bring to a boil. Add the broccoli florets and parsley, reduce the heat to low and cook, partially covered until the broccoli is tender, about 25 minutes, uncovered. Stir in the Parmesan, garnish with ricotta cheese.
Notes
Variation:
Add corn, freshly hulled or frozen
Add a little pasta when you add the broccoli
Before adding the broccoli, puree the soup for a different texture
Decrease the stock by ½ cup and subsitute light cream just before serving.
Suggestions:
Add tofu or tofu strips in final heating.
Add barley
Add chipolete