Our friends over at the First Forty Days are generously sharing a few of their favorite recipes with us at Fourth Trimester. Here's a delicious tea to try (and save to your New York Times Cooking Recipe Box! Instructions here).
Recipe from The First Forty Days: The Essential Art of Nourishing the New Mother by Heng Ou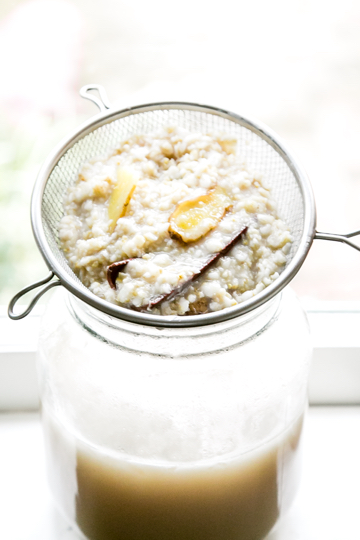 Oats, Ginger, & Cinnamon Tea
Reminiscent of Mexican horchata, this beverage is circulation-boosting, warming, and rich with the lactation-supporting benefits of oats.
Ingredients
1

cup

rolled oats

1/2

cup

steel-cut oats

1

inch

knob of fresh ginger, peeled and halved

3

cinnamon sticks

(or 2 tbsp ground cinnamon)

1

pinch

sea salt

1-2

tbsp

honey, or to taste
Instructions
Bring 7 cups (1.7 L) water to a boil in a medium pot.

Add the oats, ginger, cinnamon sticks, and salt to the boiling water. Reduce heat to low and let it simmer, three-quarters covered, for 30 minutes. Check to make sure the water level remains the same, adding more water if needed. Keep an eye on the pot, as it is very easy for this tea to boil over.

When the water has turned a milky white color and the mixture has a smooth consistency, strain it, saving the oats for another use (congee or cookies come to mind!). Pour the tea into a glass jar or directly into your mug, then stir in the honey. Sprinkle the top with a touch of ground cinnamon and drink warm.

Store in the fridge for up to 3 days. Reheat by adding a little boiling water, stir, and enjoy!
While you're making this recipe, listen to the women who created it, Heng Ou, Marisa Belger and Amely Greeven, on episodes 17 & 19 of the Fourth Trimester Podcast:
Click here for iTunes and click here for Google Play. Enjoy! xo