This Oats, Ginger & Cinnamon Tea recipe is generously shared with us at Fourth Trimester by our friends over at the First Forty Days. Here's a delicious tea to try (and save to your New York Times Cooking Recipe Box! Instructions here).
Recipe from The First Forty Days: The Essential Art of Nourishing the New Mother by Heng Ou
Love this recipe? You can find more from the collection here.
While you're making this recipe, listen to the women who created it, Heng Ou, Amely Greeven, and Marisa Belger on the Fourth Trimester Podcast:
Seven Factors That Influence The First Forty Days – this episode takes you on a journey centered around the core concept of mothering the mother. When we take care of ourselves, we can care for our children. The article is an excerpt from the book that is one of my favorites – grab a pencil, your journal, a cup of tea and start articulating to yourself what your expectations are (and could be!) for your postpartum experience
Four Relationship-Saving Questions To Ask Before Baby Arrives – when it comes to partnering to bring a new baby into this world, communication is key. Invisible, unspoken assumptions about who does what or what it means to play different parenting roles can make or break a happy home environment. Set your relationship up for success. Don't skip out on asking the big questions.
And of course, Here is their book! Grab a cup of Oats, Ginger & Cinnamon Tea and curl up for a good read.
Enjoy!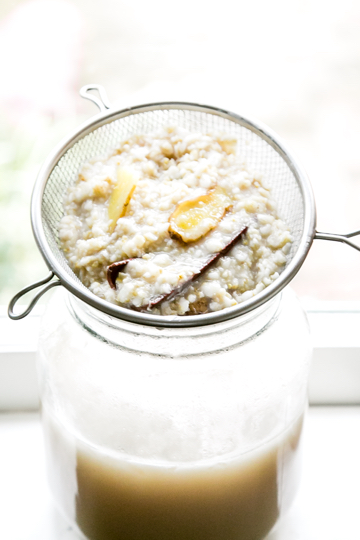 Oats, Ginger, & Cinnamon Tea
Ingredients
1

cup

rolled oats

1/2

cup

steel-cut oats

1

inch

knob of fresh ginger, peeled and halved

3

cinnamon sticks

(or 2 tbsp ground cinnamon)

1

pinch

sea salt

1-2

tbsp

honey, or to taste
Instructions
Bring 7 cups (1.7 L) water to a boil in a medium pot.

Add the oats, ginger, cinnamon sticks, and salt to the boiling water. Reduce heat to low and let it simmer, three-quarters covered, for 30 minutes. Check to make sure the water level remains the same, adding more water if needed. Keep an eye on the pot, as it is very easy for this tea to boil over.

When the water has turned a milky white color and the mixture has a smooth consistency, strain it, saving the oats for another use (congee or cookies come to mind!). Pour the tea into a glass jar or directly into your mug, then stir in the honey. Sprinkle the top with a touch of ground cinnamon and drink warm.

Store in the fridge for up to 3 days. Reheat by adding a little boiling water, stir, and enjoy!
Connect with the women who created the recipe: Heng Ou, Marisa Belger and Amely Greeven, who are featured on episodes 17 & 19 of the Fourth Trimester Podcast.
Remember, as we cover in Nutrition and Nourishment & The Essentials, new parents need sustenance for their physical (food!) and emotional (care!) self.
Please do take a moment to subscribe to the Fourth Trimester Podcast Newsletter.