Our friends over at the First Forty Days are generously sharing a few of their favorite recipes with us at Fourth Trimester. We love having a these delicious rice crispy treats on a snack tray for new moms.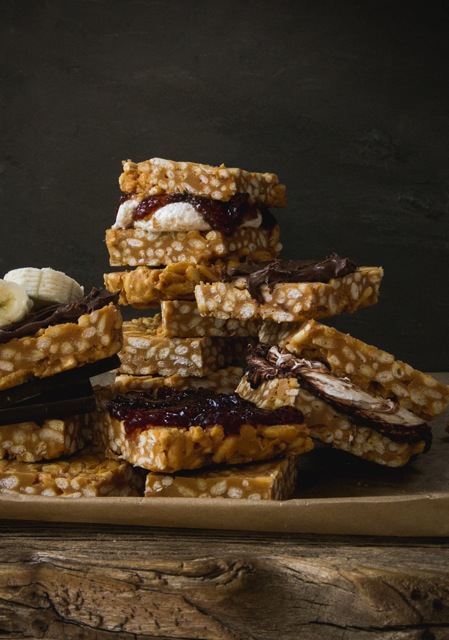 Peanut Butter & Honey Rice Crispy Treats
Nothing makes you grow up quickly like becoming a parent. These treats permit you to feel like a kid again. They are a snap to make and the peanut butter is so much better than the marshmallows found in packaged versions. (Almond or sunflower seed butter are fine substitutions.) Goji berries, raisins, or crunchy-sweet g pieces work great as add-ins.
Recipe from The First Forty Days: The Essential Art of Nourishing the New Mother by Heng Ou
Ingredients
1

cup

peanut butter

1/2

cup

salted grass-fed butter

1/2

cup

honey

2

cups

organic puffed rice

pinch

sea salt

chocolate chips, peanuts, shredded coconut, dried fruit of your choice

(optional add-ins)
Instructions
Put the puffed rice in a mixing bowl with the pinch of sea salt, add the peanut butter mixture, and stir until the cereal is evenly coated. Stir in any optional ingredients you'd like.

Transfer the mixture to an 8-inch (20-cm) square pan and press down gently to cover the bottom. Chill in the fridge forat least 20 minutes, or up to several hours.

When they are hard to the touch, cut into squares and enjoy. They will soften at room temperature, so best to keep them chilled until you are ready to eat.
While you're making this recipe, listen to the women who created it, Heng Ou, Marisa Belger and Amely Greeven, on episodes 17 & 19 of the Fourth Trimester Podcast:
Click here for iTunes and click here for Google Play. Enjoy! xo
P.S. Here's the book!