We had the pleasure of speaking with Adrian Villalba about perinatal chiropractic practices that benefit mothers. Having balance in your body both before and after giving birth can benefit new mamas in their recovery process. Adrian is certified in Webster Technique by the International Chiropractic Pediatric Association. As always, consult with your medical care provider to find out if perinatal chiropractics is a good solution for you.
What is Perinatal Chiropractic?
Perinatal refers to the time before and after having a baby. Perinatal Chiropractics refers to a practice focused on helping women (Pre, during and post pregnancy) with their chiropractic needs, often with the objectives of supporting a viable and healthy pregnancy, easing discomforts and pains, encouraging a productive and smooth labor.
Bodywork before and after pregnancy
This episode of the Fourth Trimester podcast features Adrian Villalba, a perinatal Chiropractor, discussing perinatal chiropractic, what it entails and why it's beneficial during the postpartum period. He emphasizes that Mom has to fill her own cup before being able to feed baby, just like at the airport, one has to put their own mask on first.
Adrian suggests that having therapeutic bodywork and support during the first few days of postpartum can be particularly beneficial to new moms. In this podcast, Sarah Trott and Adrian also discussed the benefits of postpartum bodywork, citing how postpartum bodywork can help a new mother navigate through the changes taking place as they adjust to motherhood and relieve some of the physical changes of having a baby.
They also discussed how physical therapy can help both expecting and new fathers, and the importance of rest and recovery for postpartum mothers. Adrian encourages new moms to be aware of their bodies and make sure they're doing whatever they need to stay healthy, including pelvic floor physical therapy, yoga, chiropractic care, massage, and acupuncture.
He also explained the ideal timing of bodywork, which should generally start 6-8 weeks postpartum depending on the individual. He stressed that a holistic approach to postpartum care is key, as emotional and immune support is just as important as physical rehabilitation. Additionally, Adrian suggested that women should prioritize their own healing, self-care and emotional wellbeing in order to better fill their own cup and better nurture their little ones.
About Adrian Villaba, Perinatal Chiropractor
Here's a bit more about Adrian: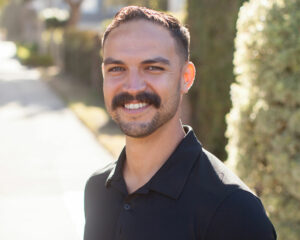 "Adrian Villalba graduated from Life Chiropractic College West in 2017 as the salutatorian of his class, with clinical honors. He facilitates healing and promotes health with people of all walks of life.
Adrian is particularly passionate about working with pregnant mothers and new moms to ensure that they have a healthy and peaceful process through birth and into motherhood. Adrian works relentlessly to provide them with an opportunity along with tools, strategies and a holistic perspective that helps them become empowered by their experience and gain clarity in times of transition. Adrian is certified in Webster Technique by the International Chiropractic Pediatric Association.
Before his journey into the Chiropractic field, Adrian worked as part of the trail crew for the National Park Service at Golden Gate National Recreation Area for eight years. He is very proud of his work in places such as Muir Woods, Alcatraz and the Marin Headlands. While serving as part of the Health and Safety committee, Adrian began teaching ergonomic and functional movement classes helping people avoid injury whether they are actively working or sitting behind a desk all day. These classes are still in high demand by multiple parks and are available for your office staff.
Adrian is an active "hobbiest" and enjoys rock climbing, playing basketball, cycling and running on a weekly basis with his (EXPECTING!) wife Lena. He maintains his active lifestyle with Foundation Training. He is a certified Foundation Training instructor and is excited to inspire people to move well and move often. He is also in the process of becoming a certified Chiropractic Extremeties Practitioner. This involves over 100 hours of post doctorate education focusing on everything from shoulders to fingers, hips to toes as well as soft tissue issues. Adrian's work can help take athletes to the next level in their desired sport.
Adrian has had the opportunity to join a team of doctors on service trips delivering chiropractic care to those who have limited access. Adrian travelled to serve the beautiful people of Jamaica in 2015 and New Delhi, India in 2016. He also volunteered his services throughout his time in chiropractic college in his own community through Mission Trip America in the mission district at San Francisco Day Laborer Program and Women's Collective.
Whether you are an expecting mother, office professional or athletically inclined, he looks forward to serving you and your families reach your health goals through gentle and specific Chiropractic care."
Listen to Esther Gallagher & Adrian Villalba on the Fourth Trimester Podcast Episode 76. Click here for iTunes and click here for Google Podcasts. Enjoy! xo
Selected links
Connect with Adrian Villalba Make An Appointment | YouTube
Learn more The Benefits Of Movement Therapy For You And Your Baby | Healing Birth Trauma
Connect with Fourth Trimester Facebook | Instagram | esthergallagher.com | About & Contact