"My love and interest in working with movement arises from the deep conviction that a free and responsive body is a vehicle for an individual's full engagement and expression in their life. I am drawn to explore and deepen the relationship of mind and body and the awareness of self in movement. I work with my clients to discover and enhance deeper and clearer levels of connectivity with themselves." 
— Evelyn Freebury
Episode 53 of the Fourth Trimester Podcast is about MOVEMENT. We speak with Evelyn Freebury who is a movement therapist and who has decades of experience working with parents and newborns. She shares ways in which movement therapy benefits both parent and newborn.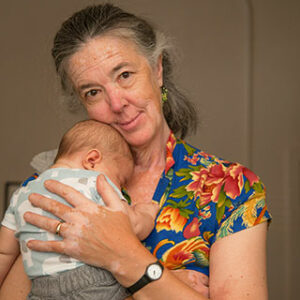 At the end of the episode, Evelyn leads us through a live, guided somatic experience. Enjoy!
In her words:
I am a movement therapist, consultant and body worker. My work is concerned with the continuum between healthy human development and refined artistic expression.

I trained and performed modern dance in the traditions of Graham, Hawkins and Limon, studied martial arts and received a black belt in Aikido. I stopped dancing due to back injuries, which has led to my lifelong interest and pursuit of movement for healing and rehabilitation.

When I was unable to dance, I immersed myself in the world of childbirth, and worked as both an obstetrical nurse and lactation consultant. Over many years I developed lactation consulting within the broader framework of movement therapy.

My life circumstances have given me direct experience with working with children and adults with neurological injury. This has shaped my perception of the continuum and range of human expressive potential.

My love of theatre and expressive movement has reemerged in a long standing collaboration with the "Complete Singer" (now "Barefoot Opera") to develop an effective approach which grounds classical singing in supportive and responsive movement. "Barefoot Opera " is a developing a pedagogy and philosophy for working with professional singers in which the whole singer as vocalist and human being is nurtured.

My ongoing interest in all of these diverse areas is in the aliveness and full engagement through our bodies that is a possibility for each of us.

All newborns face challenges in adapting and bonding to life outside of the womb. This is a gradual and individual process. Some babies move into the functioning of their bodies with ease, and others need patient support. The newborn establishes itself first in a secure relationship with the mother or the mothering person, and gradually orients towards interaction and experience with the world. The basic interactive activities of feeding and soothing develop a baseline for easeful functioning.

I work with parents and infants to support these processes when they have been challenged or disrupted. Imbalanced functioning which can underlie feeding difficulties may continue to hinder other developmental tasks such as head-lifting, rolling, and sitting.

All parents can discover ways to actively nurture these processes and support their baby's well-being, even in special or unusual circumstances.

I have been a hospital and clinic based lactation consultant for 17 years.

My approach to feeding difficulties is informed by developmental movement theory and practice.
http://www.childspacebayarea.com/evelyn-miller-freebury-r-n-ibclc/
Listen to Evelyn, Esther & Sarah on the Fourth Trimester Podcast Episode 53. Click here for iTunes and click here for Google Podcasts. Enjoy! xo