Fourth Trimester Podcast Episode 35: How Activity And Mindfulness Contribute To Mental Health
Dr Stephanie Stewart is a psychiatrist and therapist who has developed her own brand of travel therapy, mostly by taking patients on epic surf retreats around the world. She tells us how being present and putting ourselves in new situations can help uncover new insights into our own personal development journey.
Even if you aren't going on a surf trip in another country, something as simple taking a walk around the neighborhood and taking a new route can help inspire positive mental energy and reduce a sense of isolation. Try going on a walk and noticing what is happening with your five senses: what you see, what you hear, what you feel, what you smell and what you taste. This is an excellent shortcut to bringing yourself back into the present moment. As humans, we are designed to think ahead into the future. In fact, this sets us apart from animals. However, being in the present is important for our mental wellness, balancing being in the moment with planning for the future. In addition, the specific aspect of physical movement helps improve mental health. For example, movement has been shown to improve test scores for children who exercise in the morning before a test.
Try going on a walk and noticing what is happening with your five senses: what you see, what you hear, what you feel, what you smell and what you taste.
The practice of being mindful is indeed a practice. It is an effort to bring the mind back to being in the moment, and noticing how your thoughts may be wandering. Children sense when their parents are paying attention. Children can feel the difference between a parent who is focused on them while doing something with them, such as playing, reading or feeding them, versus a parent who is distracted and staring at a phone screen.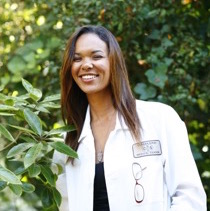 Stephanie also highlights the connection between eating and mood. There is so much more to food than the way it affects things like weight and nutrition. Both sugar and caffeine are stimulants. Even after you've had your baby, a sugar crash or caffeine crash can have an effect on the baby because there is an emotional connection between the parent and baby. If you're having a mood swing, your baby is going to vicariously experience that as well. In other words, it is important to maintain healthy nutritional habits for the sake of your mental health as well as your physical wellbeing.
Finally, becoming a parent is a good time to start thinking about your identity as an individual. Being more than "mom" or "dad" is healthy. What are those things that you enjoy? Are you a painter? Are you someone who enjoys yoga, playing the guitar, writing, traveling, reading? Becoming a healthy, whole person is a lifelong journey.While being a parent can be all-consuming at times, knowing that we are more than our role as parents is an important distinction to make. Being aware of who you are will help to set an example of both passion and confidence.
Selected links
Connect with Stephanie worldwidewellness.io | Instagram | LinkedIn
Learn more Preparing For Your Second Baby: The Second Child Transition | Pinpoint Where You Are on the Spectrum of Mental Health
Connect with Fourth Trimester Facebook | Instagram | About & Contact