Fourth Trimester Podcast Episode 36: Living Into The Parent You Are
The Fourth Trimester Podcast welcomes back Kimberly Ann Johnson to the show for an episode about identify and discovering the mother you are. Kimberly shares her thoughts with us on the show and in her article below.
Ideals vs Reality
Part of what's difficult about becoming a mother is deciding the mother we want to be.
Sometimes the mother we are and the mother we imagined we would be are different.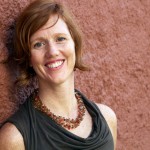 As a single mother, I have had to confront my ideals and reality. My daughter has played with plastic toys, eaten sugar before she turned one, and been babysat by a device. None of these things were my first choice. However I have had to get real with myself about what is possible for us, about what works.
Also for every personality strength I have, there is a corresponding downside. I am a flexible person. You want sushi, I want pizza. Ok, I can do pizza. On the shadow-side, my daughter got the mistaken idea that her preferences are king. Imagine how mortified I was when in the company of four adults who all wanted Italian, she insisted (and won) on going to sushi. I don't like routine- that makes me fun and spontaneous. Not so great for twice daily tooth-brushing.
Self-Acceptance
Like every mom, I can be very hard on myself. I wish that I could be giving her both sides of the coin. I wish that I could be equally as flexible and assertive. I wish that I could embody the perfect proportion of masculine and feminine- knowing just which direction to go at any given moment. Oh yeah, but then life!
One of my biggest practices in motherhood has been acceptance. Accepting the uniqueness of who I am that comes with limitations. (You can't be strongly opinionated and a peacemaker at the same time).
Explore what being a parent means to you
Becoming a mother has been filled with reflections on what my upbringing offered me in terms of images of motherhood. I find a lot of opposites. Sexuality and motherhood. Pleasure and motherhood. Fulfillment and Motherhood. These are some of the tensions that I am living to resolve right now.
What parts of you are dormant right now?
What would you like to become part of your experience of motherhood that seems foreign or mysterious?
These explorations are part of our visioning of the new age, how we shape our communities and what we leave as a legacy for our daughters.
Selected links
Connect with Kimberly Johnson kimberlyannjohnson.com | YouTube | Facebook
Kimberly's books The Fourth Trimester (Catchy title!) | Call of The Wild
Learn more Post-Birth Libido, Birth Injury & How Past Trauma Affects Birth | Four Relationship-Saving Questions To Ask Before Baby Arrives
Connect with Fourth Trimester Facebook | Instagram | About & Contact
The content provided in this article(s) is provided for informational purposes only and does not constitute medical or other professional advice. Neither Sarah Trott nor Buckeye Media LLC (DBA Fourth Trimester) are liable for claims arising from the use of or reliance on information contained in this article.