Fourth Trimester Podcast Episode 29: Eat Like The Rainbow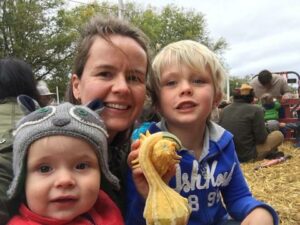 On Episode 29 we speak with Marjan Esser who works for a company that specializes in creating foods for parents, babies and toddlers. She shares her wisdom with us and we love the way she describes healthy eating: "Eat Like The Rainbow!". We agree. Don't salads always look more attractive when they have a variety of colors? But don't get us wrong … healthy eating isn't about eating salads. This is particularly true for expecting moms and post-natal moms.
How does eating while pregnant factor into baby's palate?
What is the relationship between milk supply and foods?
Which foods work well for first solids to try with your 4-6 month old?
What nutritious foods are helpful for a recovering new mom?
Listen to the show to find out the answers to these questions and more.
"Babies and food … that sums up my two passions in life!" – Marjan Esser
Listen to Marjan on Episode 29 of the Fourth Trimester Podcast. Click here for iTunes and click here for Google Podcasts. Also, please check out Episode 7 which is dedicated to nutrition, nurturing and nourishment. Enjoy! xo
Selected links
Connect with Marjan LinkedIn
Learn more  Good Food for New Parents | Nutrition and Nourishment: The Essentials
Connect with Fourth Trimester Facebook | Instagram | esthergallagher.com | About & Contact