Hint: put these on the snack tray. (What's a snack tray? Find out here.)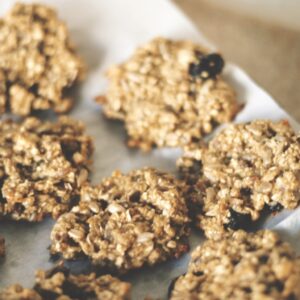 Esther's Oatmeal Cookies
This recipe makes a huge batch of darned healthy cookies. You will need really large mixing bowls to gather all the ingredients together. You can freeze the dough or the baked cookies, if you don't eat them all in a few days. YEAH!!!!!
Ingredients
1

lb

butter

4

cups

brown sugar

4

eggs

2

tbsp

vanilla

4

cups

whole wheat flour

2

tsp

baking powder

1

tsp

salt

1

tsp

baking soda

1

cup

almonds (ground in blender) or peanut butter

4

cups

rolled oats (not instant) or granola

optional: chocolate, butterscotch, or peanut butter chips; 1-2 cups chopped nuts; 1+ cup raisins; other dried fruits
Instructions
Cream together the butter and sugar. Blend in the eggs and vanilla to creamed mixture. In a separate bowl, mix together the flour, baking powder, salt and baking soda. Combine the flour mixture with the creamed mixture, then add ground almonds OR peanut butter and rolled oats (not instant!) OR granola. This is the basic cookie recipe.

Use your imagination and add any or all of the following: 16 oz. bag of chocolate (or butterscotch or peanut butter) chips, a cup or 2 (or more!) of chopped nuts, a cup or more of raisins or other dried fruits (chopped if necessary).

Drop about a dozen heaping teaspoons of cookie dough on each ungreased cookie sheet. Bake at 375° for 12 minutes until lightly brown. Cool on the cookie sheet for about 5 minutes, then transfer onto a paper bag and allow them to finish cooling.