Fourth Trimester Podcast Episode 57: How A Postpartum Doula Can Help Build Your Community – Manuela Bakilana & Shakila Marando From Doulas By The Bay
Most women in the USA do not have a community coming to support them and their new family during the first 90 days after having a baby.
Listen to this episode to learn about the advantages of building up a community of friends, family, trusted neighbors, and professional supporters (e.g. a postpartum doula or night doula).
Take care of yourself first so you can take care of your newborn.
In Shakila's words:
I am a mother of two beautiful daughters of ages 10 and 11 years old. I have been providing care for infants and children with their families for over 20 years. As a Postpartum Doula, I have worked with couple of hundreds of families offering newborn care and breastfeeding counseling. Becoming a mother radically realigned every aspect of my life and introduced me to "my call". I believe it takes a village to raise a child and every family deserve an emotional, physical and psychological support following the birth of their baby.

I moved to the San Francisco Bay Area over 20 years ago, originally from Tanzania East Africa. I founded DOULAS by the BAY LLC in year 2014, an agency that helps to connect Doulas,Newborn Care Specialists and Nannies with families in the community that is looking for birth and postpartum support.My practice is recognized as one of the San Francisco Bay Area's leading Doula resources.

Helping families transition successfully with their lives after the birth of their newborn is my passion.To ensure you get the best care, I've honed my skills with certifications and training from prestigious national institutes. I also believe in staying abreast of current practices, which is why I've chosen to continue my education by taking courses in early childhood education and psychology at San Francisco State University.

When I'm not working with families, I enjoy hiking, running, dancing, cooking, reading, writing, snowboarding, skydiving, swimming and golfing.
Here's more information about Doulas by the Bay: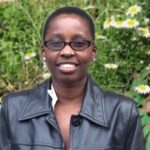 DOULAS by the BAY LLC, known as DBB was formerly founded in the year 2014 by Shakila Marando. It is a team of professionally trained and certified Doulas, Nannies and Newborn Care Specialists who are dedicated to supporting new and expecting families before, during and after childbirth. Our careful attention to detail, depth of experience and commitment to families, has made DOULAS by the BAY the leading and most trusted doula practice in the San Francisco Bay Area.
Despite the immeasurable rewards that come with being a parent, transitioning into this new role can be difficult. We firmly believe that every family deserves to have a warm, experienced professional to help ease the transition into parenthood. At DOULAS by the BAY, we understand that each family has unique needs. Our doulas are committed to offering non-judgmental support to every family. Our network of doulas offers a wealth of useful information and consultation to new families in areas such as Basic newborn care, infant feeding and Newborn sleep issues.
Each of our Doulas, Nannies and Newborn Care Specialists received a comprehensive training, a CPR certification and undergoes a thorough screening process and listed on a Trustline registry.You can rest assured that each of our professional working with your family is a competent, reliable and caring individual who is passionate about supporting your family's needs.
You can learn more about Doulas By The Bay on their website: http://doulasbythebay.com/
Connect with Shakila and Manuela on Facebook at https://www.facebook.com/doulasbythebay/
Listen to Esther Gallagher, Shakila Marando & Manuela Bakilana on the Fourth Trimester Podcast Episode 57. Click here for iTunes and click here for Google Podcasts. Enjoy! xo