If you are even remotely considering hiring a doula to help you out after you've had a baby, we highly recommend listening to Monique Cowan (a.k.a. Monique The Doula) share her first-hand experiences in a typical day in her job. She talks through the practical offerings of helping families prepare for a birth and then how families can thrive after baby has arrived.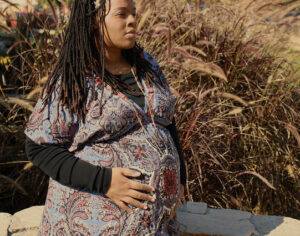 Monique was inspired to become a postpartum doula after her own birth experience. She saw the potential to help women in her Southern California locale, particularly women of color and inner city areas.  She works with all people who need postpartum doula services and her website is https://moniquethedoula.wordpress.com/.  Her Facebook page is https://www.facebook.com/MotheringMamas/.
Monique has a wonderful Village Harmony program which we would love to see every parent attend:
Village Harmony is series of classes and one-to-one coaching presented by Monique The Doula to assist in creating and maintaining harmony within the entire family. Happy babies begin with happy parents; and happy parents have a stable, unified and harmonious village surrounding them. But, in today's society, villages must be cultivated. Parents must be purposeful in choosing their support system.
Monique Diane is a wonderful doula and inspiring woman. She lives in Los Angeles where she is raising her daughter. Not only does she work with birth and postpartum clients who can pay her for her services, but she finds ways to work with clients who may need creative approaches to reciprocation.
Monique and Esther found some real common ground both in our parenting and our professional stories and approaches.
Monique has a lovely way of describing and addressing the needs of new mothers and families.  We were blessed to have her join us for this interview.  Enjoy!
Listen to Monique & Esther on the Fourth Trimester Podcast Episode 50. Click here for iTunes and click here for Google Podcasts. Enjoy! xo