Fourth Trimester Podcast Episode 45: Celebrity Image Impacts Parents
Renée Ann Cramer is our guest on episode 45 of the Fourth Trimester Podcast. She is Professor and Chair of Law, Politics and Society at Drake University and she wrote "Pregnant With The Stars: Watching And Wanting The Celebrity Baby Bump" as part of her research into midwifery and the culture around pregnancy and celebrity.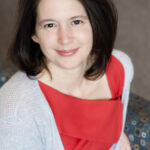 Holding oneself to the standard of airbrushed photo shoots in magazines is not going to lead to a successful self image. Let's let go of the pursuit of perfection and support one another in developing true confidence and strength as parents.
Renée encourages commenting on the baby bump in a manner that addresses positivity, for example: "You look strong. You look well. You look well rested." OR if they don't, "how can I help?"
We are thrilled to have Renée as a guest on our program and encourage you to check out her book. Speaking of which, here's the official description:
"Check out that baby bump!" Online and print magazines, television shows, and personal blogs are awash with gossip and speculation about pregnant celebrities. What drives our cultural obsession with celebrity baby bumps? Pregnant with the Stars examines the American fascination with, and judgment of, celebrity pregnancy, and exposes how our seemingly innocent interest in "baby bumps" actually reinforces troubling standards about femininity, race, and class, while increasing the surveillance and regulation of all women in our society.

This book charts how the American understanding of pregnancy has evolved by examining pop culture coverage of the pregnant celebrity body. Investigating and comparing the media coverage of pregnant celebrities, including Jennifer Garner, Angelina Jolie, Beyoncé Knowles, Kristen Bell, M.I.A., Jodie Foster, and Mila Kunis, Renée Cramer shows us how women are categorized and defined by their pregnancies. Their stories provide a paparazzi-sized lens through which we can interpret a complex set of social and legal regulations of pregnant women.

Cramer exposes how cultural ideas like the "rockin' post-baby body" are not only unattainable; they are a means of social control. Combining cultural and legal analysis, Pregnant with the Stars uncovers a world where pregnant celebrities are governed and controlled alongside the recent, and troubling, proliferation of restrictive laws aimed at women in the realm of reproductive justice and freedom. Cramer asks each reader and cultural consumer to recognize that the seeing, judging, and discussion of the "baby bump" isn't merely frivolous celebrity gossip—it is an act of surveillance, commodification, and control.
Renée is currently at work on a project to understand the regulation of midwifery in the United States, and the activism of pro-midwifery advocates who seek to make the profession legal, where it isn't.  This research is supported by the National Science Foundation.
Selected links
Connect with Renée Cramer Bio & Email | LinkedIn
Renée's book Pregnant With The Stars: Watching And Wanting The Celebrity Baby Bump
Learn more Become The Best Version Of Yourself | Afraid Of The Birth? Anxious About Being A Parent?
Connect with Fourth Trimester Facebook | Instagram | About & Contact
The content provided in this article(s) is provided for informational purposes only and does not constitute medical or other professional advice. Neither Sarah Trott nor Buckeye Media LLC (DBA Fourth Trimester) are liable for claims arising from the use of or reliance on information contained in this article.